PRP Ship Management provides management services for a wide range of vessels. PRP is among the few managers capable of offering management services for, in addition to conventional tonnage, sophisticated offshore service Vessels, such as subsea construction, PSVs, AHTS vessels and shuttle tankers with DP.
PRP management philosophy is to focus on asset protection. Our staff views ship management from an Owner's perspective, giving priority to safety, preventive maintenance and flawless operation.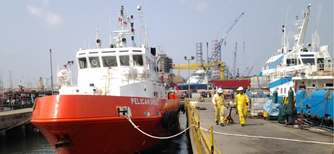 Technical Management
Our technical staffs have experience as masters, chief engineers, marine technologies engineers and naval architecture has an experience from a wide variety of shipping and offshore-related activity. PRP focus on asset protection and our staff's concentrates on viewing ship-management from an owner's perspective.
Services
Purchase inspection
Commercial management
Marine insurance services
Health, safety and environment (HSE) Quality services
Corporate management