Our people are our highest priority. We place great emphasis on teamwork and on creating an environment in which our seagoing and shore-based staff feel valued and a part of the company. We also strive to reflect our values and vision throughout the organization in order to provide the best possible service for our clients. By making all our employees feel part of the company, and by fully supporting their continuing education, competence building and career development, we intend to attract the "new generation" of seafarers.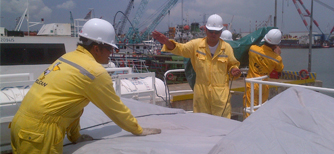 Customers with High Standards and Requirements
PRP Crew Management serves a number of customers. They share our view that personnel is our most important asset and crucial for preserving the value of their vessels. PRP Crew Management serves a number of companies operating for oil majors and national oil companies. The crew management operation strives to provide high quality personnel that are fit for service.
Our company perform a complete human resource cycle
Recruitment
Selection
Documentation
Employment
Rotation planning
Training & Cadet Programs
Career Planning
Family & welfare